Borgata Talucco in the Upper Val Lemina in the Pinerolo area, is particularly interesting in terms of cheese production, due to its speciality known as Tomino del Talucco, which was once the mainstay of the valley's economy.Situated in the little hamlet at an altitude of about 1000 metres above sea level, the farm has recently opened a shop attached to its new dairy. Tomino del Talucco is just one of the products that farm Fiorendo offers. Indeed, it is flanked by a wide range of products and services, as well as accommodation and interesting walks and excursions in the nearby area. From the very outset in 1993, the Brusa family have focused on the mountains and nature, as demonstrated by the organic certification of their products.
---
goats, with opportunity for pasture year round, depending on weather conditions
Saanen, Alpine Chamoisee and crossbreds
Formaggi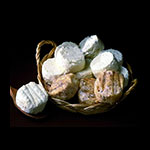 Fiorendo
Punti vendita
Farm shop: call the owners for opening times.
Prodotti - Servizi
Fresh and aged tomino cheeses, jams and vegetable preserves.
Farm stay facility offering restaurant and accommodation. Educational farm
---